This collection contains the following manuals
Volvo G900 series grader operators manual. This manual covers G930,G940,G946,G960,G970,G976,G990,G990.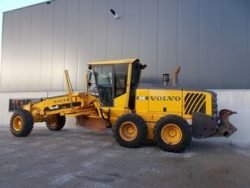 Volvo G940 Service Manuals.
Volvo G900 series grader operators manual.
Volvo G930,G940,G960,G970,G990 parts manual.
Volvo Construction Equipment is different. Our machines are designed, built and supported in a different way. That difference comes from an engineering heritage of over 175 years. A heritage
of thinking first about the people who actually use the machines. Volvo G940
About how to help them be safer, more comfortable, more productive. About the environment we all share. The result of that thinking is a growing range of machines and a global support network dedicated to helping you do more. People around the world are proud to use Volvo. And we're proud of what makes Volvo different.
Transmission
Fully sequential, direct drive, Volvo powershift transmission. Engine cannot be started if transmission is in gear. Single lever electronic transmission controller provides self-diagnostics and overspeed protection. Optional HTE1160 has automatic shifting and travel mode as standard equipment.
Approximate values – ground speeds may vary based upon tire brand.
Volvo G940 Service Set Manuals